Mood NEW CLASSIC: achterwand afgewerkt met de stof Oban col.2 – mirtillo van Dedar, lambrisering Yaya Nero fineer van Leeuwerik, hanglamp Another day van Pouenat, kastje met franjes Alpaga van Ibride, fauteuils Jim van Arflex, marmeren bijzettafel Playing Games van Dooq Details, salontafel Benson van Minotti, hoge bijzettafel Shadow van Lee Broom, tafellamp Statement met fluwelen kap van Nordstjerne RECHTS: Achterwand (links) Leeuwerik – Duropal – U16014 Kodiak en rechterwand: Duropal U17505 – Plum, Bank (designklassieker) Serpentine sofa van Vladimir Kagan, vloerlamp IC Lights F1 van Flos, ronde wandplank aura van Carla Baz via Joy Mardini Design Gallery, dressoir Dandy van Essential Home, tafellamp Normanna van Purho, Voorwand (schuin) Leeuwerik Shinnoki Smoked Walnut, dressoir anamorphic console by asherisraelow.com, vaas Kasvu – Gold 1 van Armelle Bouchet O'Neill, 2017, poef Mellow 70 van Munna Design, vloer ingelegd in een klassiek Metz patroon  | Monique van der Reijden & Michelle Verheijen © Trend Compass  
To get the best atmosphere experience we travel to London, Paris or Milan. In the metropoles we find inspiration for the eclectic and intimate atmosphere of a Boutique Hotel 2.0. Everything is about privacy and modest decadence. The classic rules are being broken by rebellious designers who experiment with colour, outstanding dessins and classic materials and fabrics. The retro style mix surprises us with design icons in a new jacket, the comeback of wall panelling, diamond patterns, velvet and tassels. Dark wood, natural stone and golden details refer to the grandeur of interior of the past century. Round shapes and gloss optics like mirroring metallic gives the interior glamour.

Duropal – U17141 Orchidea, Yaya Nero fineer, Polyrey – 0101 Metal Brilliant, Polyrey N005 Noir Brilliant
Coat rack annex wall mirror Welcome by Tonelli
Block pattern floor via asun.fi
RETRO CHIC
Bring graphic patterns like herringbone or a block pattern back in this interior and make combinations with marble and mirroring optics.
'70/'80s VIBES
In an interior like this are tub-shaped fauteuils, like the ones from Jules & Jim by Arflex, indispensable: the perfect lounge furniture which creates atmosphere in multiple colours. What is new are patterned tiles on the floor and wood veneer on the walls and ceiling.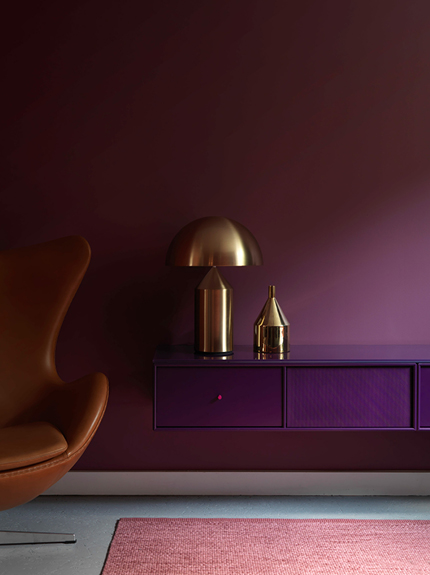 Skandium Eco Townhouse for London Design Festival 2018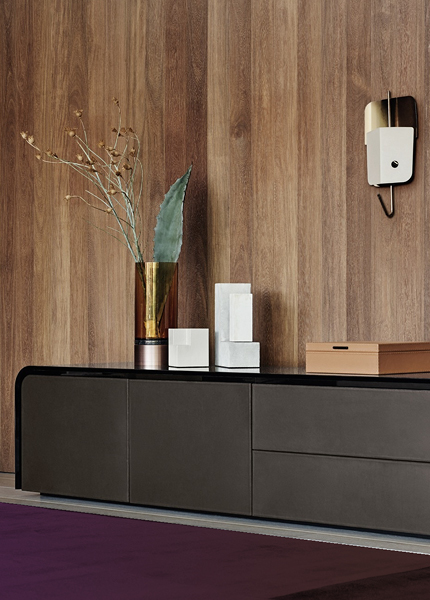 Fendi Casa 2018
BROWN and PURPLE
Brown in combination with a wooden structure has become an important new base. Dare to paint your wall brown or even purple to coordinate it with dark wood. The Bohemian style from the '70 and '80 are an important inspiration. Floating sideboards, round living rooms with built-in sofa's, the conversation pit and a lot of other things from this period in time are making a revival.

FENIX NTM – 0751 Rosso Jaipur, Duropal U17141 – Orchidea, Resopal 1511 – Mandarin Red, Shinnoki Smoked Walnut
Design brands present more often a luxurious accessories collection next to their furniture collections, these accessories are like jewellery to collect for your interior. The coffee table, fireplace, side table and walls are being decorated like a still life. Striking is that trendy luxurious materials for walls, furniture and floor also is being used in the accessories. From coloured marble and glass to gold-coloured mirrors with a plissé structure.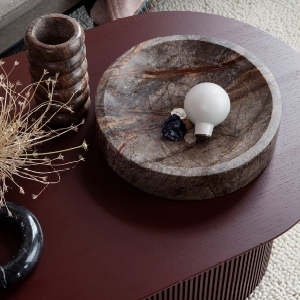 Table Podia by Pulpo Ferm Living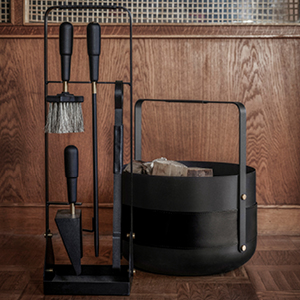 Fireplace accessories by Emma Olbers
Mirror Fan by Reflections Copenhagen
AVANT-GARDE
All the classic elements in this interior make us nostalgic. When you mix the style periods, bolt colours and materials you create the new New Classic style anno 2020. Striking is the play with circles, globe and bow shapes which comes back in the architecture and in the furniture and accessories. The work of the iconic American designer Vladimir Kagan is an inspiration source for the designs of today. His Serpentine Sofa is an example that he was far beyond his time on design level, he shows that 'modern design' has a timeless value and finds its place in a classic interior or in an avant-garde interior.
Fauteuil Tearoom club chair by Menu and wallpaper The Silk Route collection by Anna Glover
Lamp China 07 by Magic Circus Éditions
HERRINGBONE and BLOCKS
Classic living has a few basic ingredients like a wooden or natural stone floor with a pattern like herringbone or a block pattern. Your walls should be covered with a decorated wallpaper and the a few colours of this wallpaper must return in the furniture. Velvet gives fauteuils or sofa's a rich look. Wooden wall panels and frames, with different heights, are a must have.
Polyrey B120 – Brique
NEW CLASSIC KITCHEN
Symbolic for New Classic is this kitchen by Fendi in collaboration with Scic Italia. The smoked glass, two tones of marble and brass in the cooking island and the bolt choices with the brown décor shows a vision of the future. Also the round lamps are a special trend signal.
TREND CANNAGE
The braided technique Cannage arose in the seventeenth century. In today's interior and furniture design the use of cannage creates a new surprising look. Combine it with terra and purple tones, dark wood and brass or bronze. The open structure, the remarkable graphic pattern and the crafty look give the interior a natural warmth.