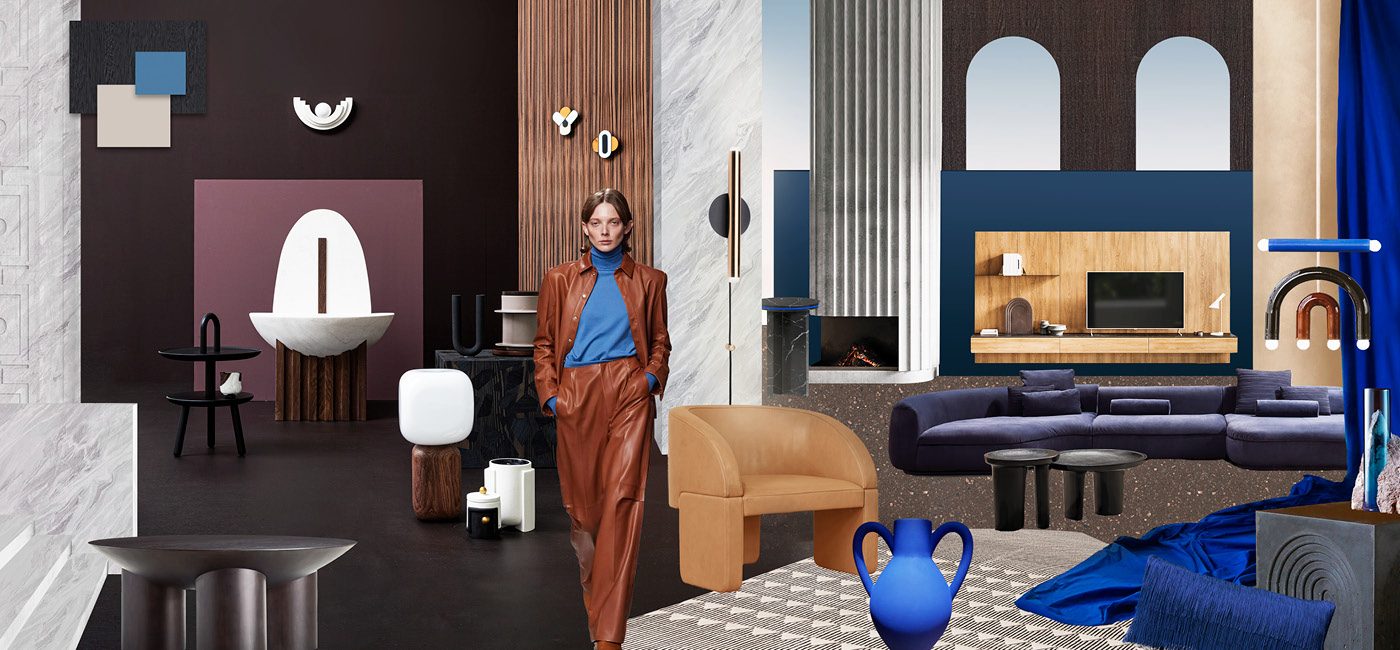 Mood All eyes on brown & blue: Links: stalengroepjes: Yaya Nero fineer, Polyrey F026 – Feutre en Polyrey C018 – Chardon, houtfineer wand The Veneer by Decospan AMARA 4.12 van Leeuwerik, Trendbeeld, trendproductie Beeldbepalers voor de EH&I ism Trend Compass, ph. Kaatje verschoren. Sculpturale stoel Tellus en wandlamp Ceres beide uit de collectie Terra, 2020 Limited Edition van Llewellyn Chupin, vloer Marmoleum Cocoa kleur 3581 dark chocolate van Forbo, Achterwand Muurverf Copper Beech 314 en halfhoge muur: muurverf Plum Brandy 341 beide in zeer matte finish Pure Flat Emulsion van Paint and Paper Library Maé Lamp van Joris Poggioli, Vierkante salontafel BLEND-Cube van Ward Wijnants, Gestapeld servies van Glenn Sestig voor Valerie Objects, Wandspiegels-kledinghaken Cicala en Mousco van Margaux Keller, Geurkaarsen Cubisme van l'Object via ''s Zomers Bloemen, kopje Bol Brut, zwarte buisvaas You van Valeria Vasi via Folks. Bijzettafel Poétique van Jamie Hayon voor Cassina via Just Haasnoot en Fashion: Gauchère AW20. Rechts: Achterwand Polyrey M134 – Marbre Siroco, en houten achterwand in Shinnoki – Chocolate Oak van Leeuwerik,Frame Living System van Justin Hutchinson voor coshliving.com.au, wandlamp Stilo van Riflessi, wandmeubel uitgevoerd in: achterwand in Fenix NTM 0754 – Blu Fes en houtfineer Polyrey C129 – Chêne Bastide beide Leeuwerik, bijzettafel Discolation van Studio Buzao via Savannah Bay Gallery, fauteuil Lazybones, salontafels Calix en bank Piaf van Baxter, organische donkerblauw kleed Parade Paradiso van Dessotarkett, vaas van Julie Lansom, kussen van One Nine Eight Five, Arcade tafel van Crump & Kwash, vaas Drill, marmer & glass van Studio EO, hanglamp TRN van Pani Jurek
Monique van der Reijden & Michelle Verheijen © Trend Compass  
This new interior is as seductive as dark brown eyes, dark chocolate and espresso. The earthy and natural power of the trend color brown in the interior creates a warm and exciting atmosphere. Dark wood optics are lit up by chalkstone and marble. With accents in blue and camel, the space becomes fashionable and fresher. Furniture and accessories enhance the monumental feel of the space through its sacred design.
Samples: Polyrey C119 – Cassis, Tmatt – Arena, The Veneer van Decospan in Amara 4.12, Yaya Nero – Fineer
HIGH-END LUXURY
In the new trend production Beeldbepalers for Eigen Huis & Interieur and Feeling Wonen (BE) one of the walls is decorated with The Veneer in Amara 4.12 from the collection of Leeuwerik. In combination with the sustainable Marmoleum Cocoa floor by Forbo (colour 3581 Dark Chocolate) and the new extra matte wall paint Plum Brandy by Paint and Paper Library, the basis for a trendy yet timeless interior atmosphere is created.
Click here for more inspiration